展会新闻
国际会议第二轮通知:12th International Conference for AD/PD(2015/3/18~22)
2015.01.14
---

第12届阿尔茨海默病与帕金森病国际会议
12th International Conference for AD/PD
会议日期:2015年3月18~22日
conference dates:March 18-22, 2015
会议地点:Nice
conference venue:Nice - Acropolis 1
Esplanade Kennedy Nice, Cedex 4
Tel.:+33 (0)493928300
Fax:+33 (0)493928255
会议网址:www.nice-acropolis.com
会议邀请函:
The 12th International Conference on Alzheimer's and Parkinson's Diseases and Related Neurological Disorders (AD/PDTM 2015) will build on the well-earned reputation of previous AD/PDTM meetings for unraveling the mechanisms and improving the treatment of Alzheimer's, Parkinson's and other related neurodegenerative diseases. Renowned for its broad, multidisciplinary approach, AD/PDTM 2015 is aimed at clinical investigators and basic scientists,

established investigators as well as young upcoming talents.

The stimulating academic programme combined with a collegial environment promises to foster debate, discussion and collaboration. AD/PDTM 2015, unique in its ability to build upon Alzheimer's Conferences and Parkinson's Conferences through exploring overlaps and congruent results, will provide attendees unparalleled and powerful insights into the latest research, developments, and treatments.
委员会
Organizing Committee:
Abraham Fisher, Israel, President
Roger M. Nitsch, Switzerland, Executive Organizer
Manfred Windisch, Austria, Executive Organizer
Local FAculty:
Luc Buee, France

Frédéric Checler, France

Bruno Dubois, France

Jean-Marc Orgogozo, France

international FAculty

Karen Ashe, USA

Jesus Avila, Spain

Konrad Beyreuther, Germany

Raymond C.C. Chang, Hong Kong S.A.R.

Aaron Ciechanover, Israel

Claudio A. Cuello, Canada

Merit Cudkowicz, USA

Bart De Strooper, Belgium

Monica Di Luca, Italy

Karen Duff, USA

Spiros Efthimiopoulos, Greece

Murat Emre, Turkey

Richard Frackowiak, Switzerland

Giovanni B. Frisoni, Italy

Thomas Gasser, Germany

Serge Gauthier, Canada

Ezio iacobini, Switzerland

Todd Golde, USA

John H. Growdon, USA

Christian Haass, Germany

Israel Hanin, USA (Ex-Officio, Organizing Committee)

John Hardy, UK

Tobias Hartmann, Germany

Christoph Hock, Switzerland (also CME)

David Holtzman, USA

Jakub Hort, Czech Republic

Nibaldo C. Inestrosa, Chile

Khalid Iqbal, USA

Takeshi Iwatsubo, Japan

Amos D. Korczyn, Israel

Dora Kovacs, USA

Edward Koo, USA

Jaime Kulisevsky, Spain

John Q. Trojanowski, USA

Li-Huei Tsai, USA

Christine Van Broeckhoven, Belgium

Bruno Vellas, France

Michael Weiner, USA

Bengt Winblad, Sweden

Zbigniew Wszolek, USA

Rudolph E. Tanzi, USA

Masatoshi Takeda, Japan




Frank LaFerla, USA

Virginia M.Y. Lee, USA

Cynthia Lemere, USA

Eckhard Mandelkow, Germany

Eva-Maria Mandelkow, Germany

Ken Marek, USA

Eliezer Masliah, USA

Colin L. Masters, Australia

Ian McKeith, UK

Eldad Melamed, Israel

Maurizio Memo, Italy

Daniel M. Michaelson, Israel

Yoshikuni Mizuno, Japan

Toshiharu Nagatsu, Japan

Manuela Neumann, Germany

Perluigi Nicotera, Germany

Agneta Nordberg, Sweden

Michal Novak, Slovak Republic

Warren C. Olanow, USA

Giancarlo Pepeu, Italy

Remi Quirion, Canada

Lawrence Rajendran, Switzerland

Irina Rektorova, Czech Republic

Roland Riek, Switzerland

Nikos Robakis, USA

Philippe Robert, France

Martin N. Rossor, UK

Takaomi Saido, Japan

Cristina Sampaio, Portugal

Philip Scheltens, The Netherlands

Reinhold Schmidt, Austria

Lon S. Schneider, USA

Menahem Segal, Israel

Dennis J. Selkoe, USA

Avigdor Shafferman, Israel

Jie Shen, USA

Sangram S. Sisodia, USA

David H. Small, Australia

Hilkka Soininen, Finland

Beka Solomon, Israel

Sandro Sorbi, Italy

Hermona Soreq, Israel

Reisa Sperling, USA

Maria Grazia Spillantini, UK

Peter St. George-Hyslop, Canada

Fabrizio Stocchi, Italy

Thomas Sudhof, USA

Yoo-Hun Suh, South Korea

Rudolph E. Tanzi, USA
论文截止日期:
Late Abstract Submission will be open until Monday 12 January 2015.
论文提交网址:
http://www2.kenes.com/adpd/sci/Pages/CallforAbstracts.aspx
演讲者简介网址:
http://www2.kenes.com/adpd/sci/Pages/meetthespeakers.aspx
会议日程: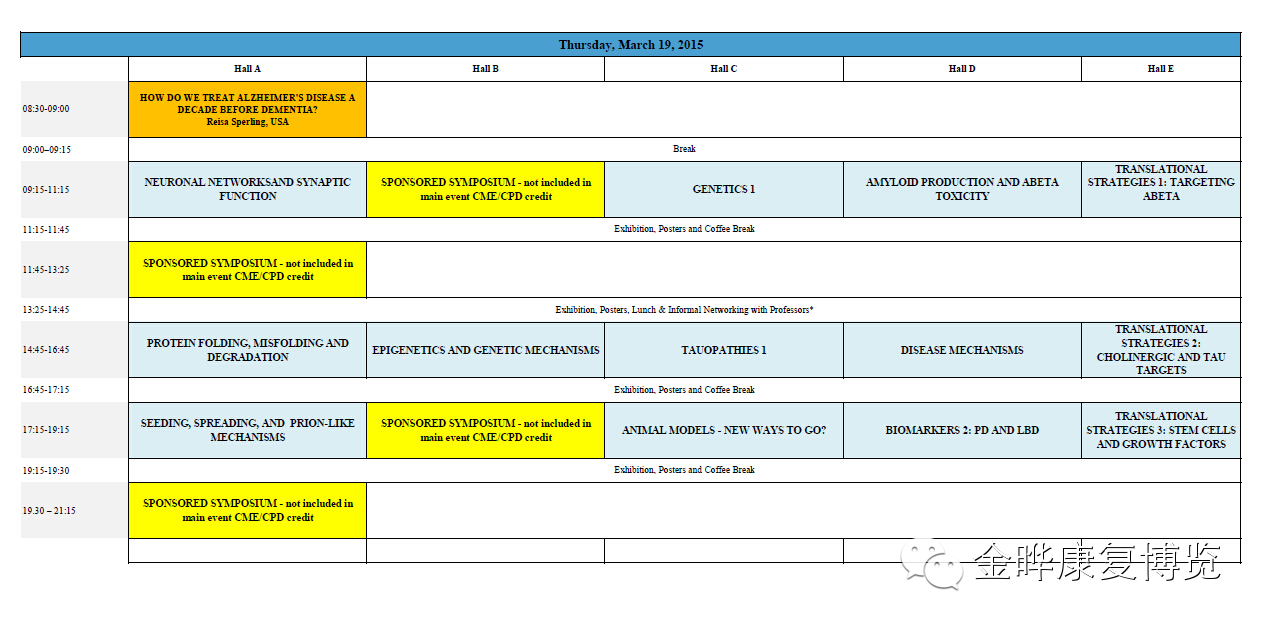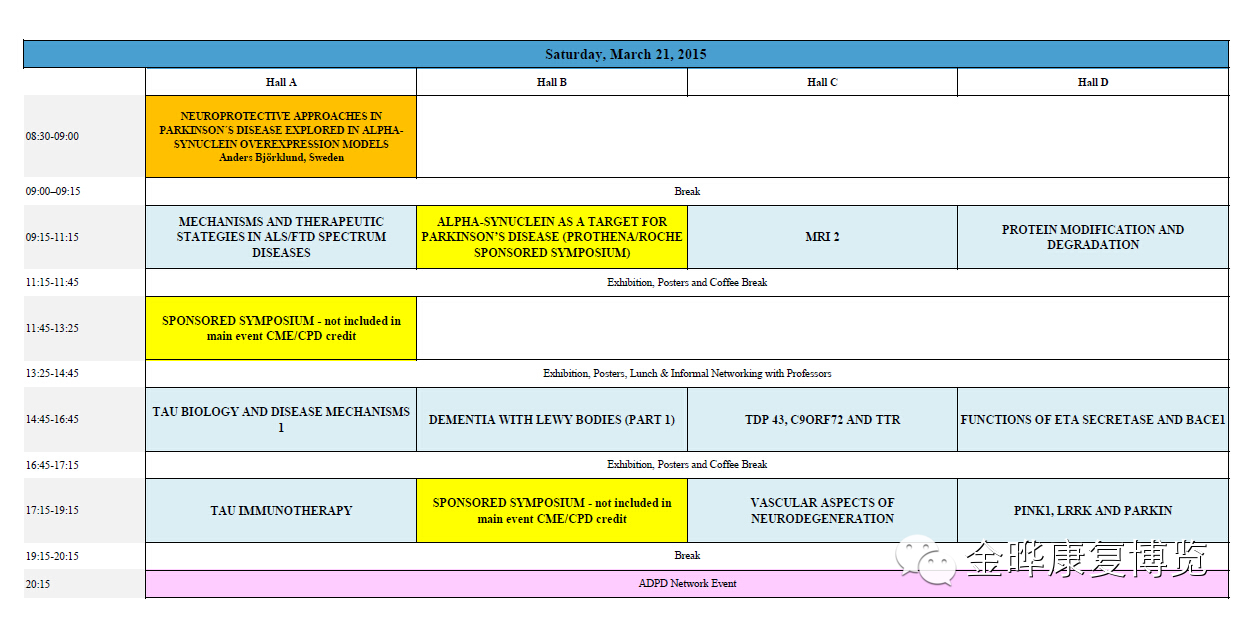 Plenary Speakers: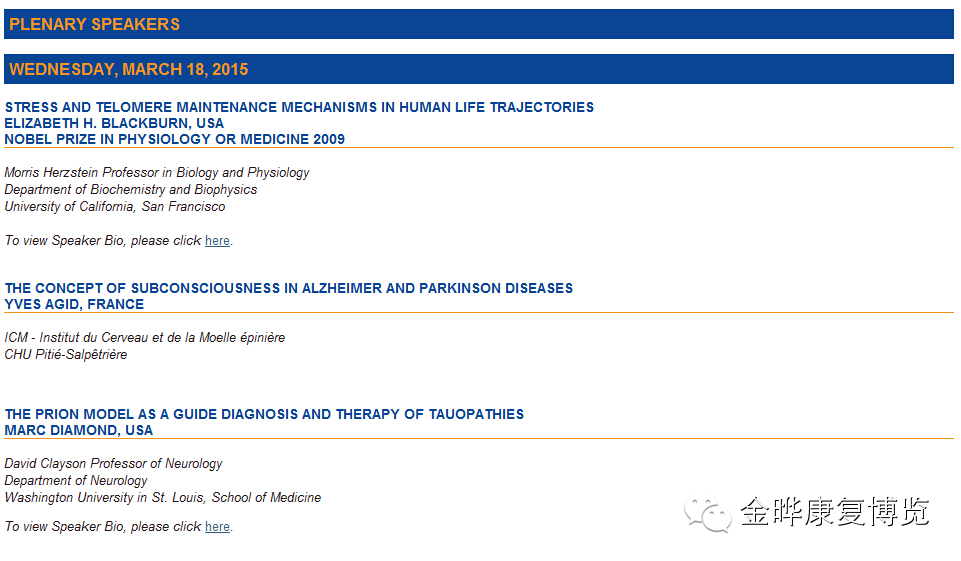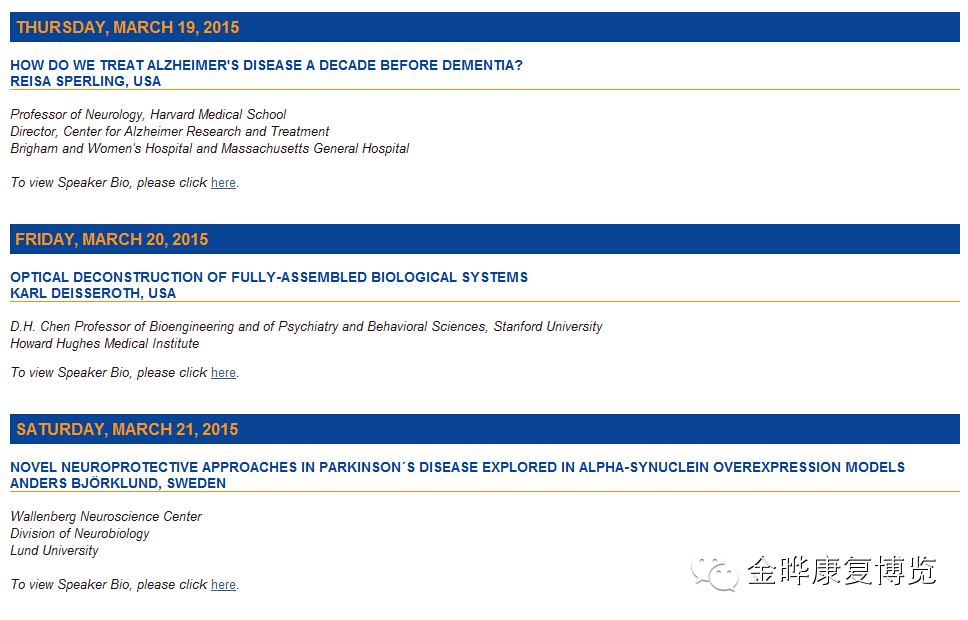 Speaker Lecture Titles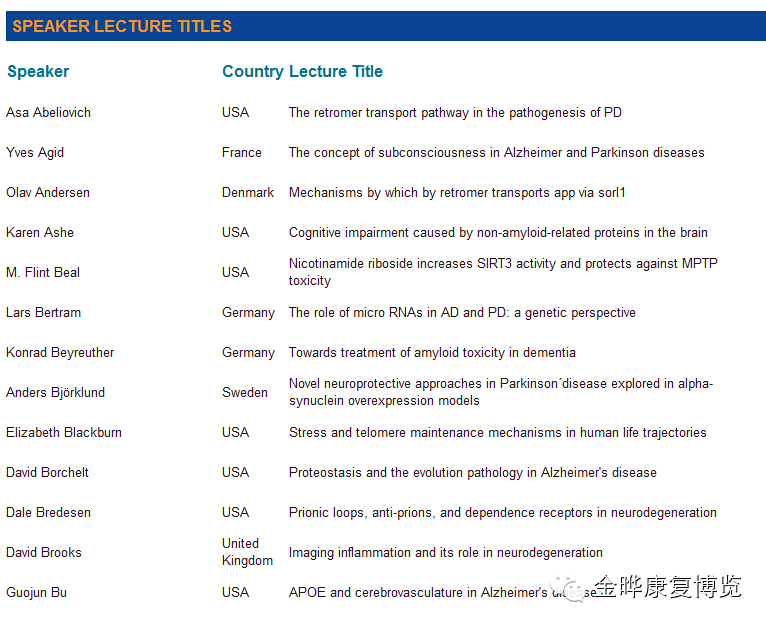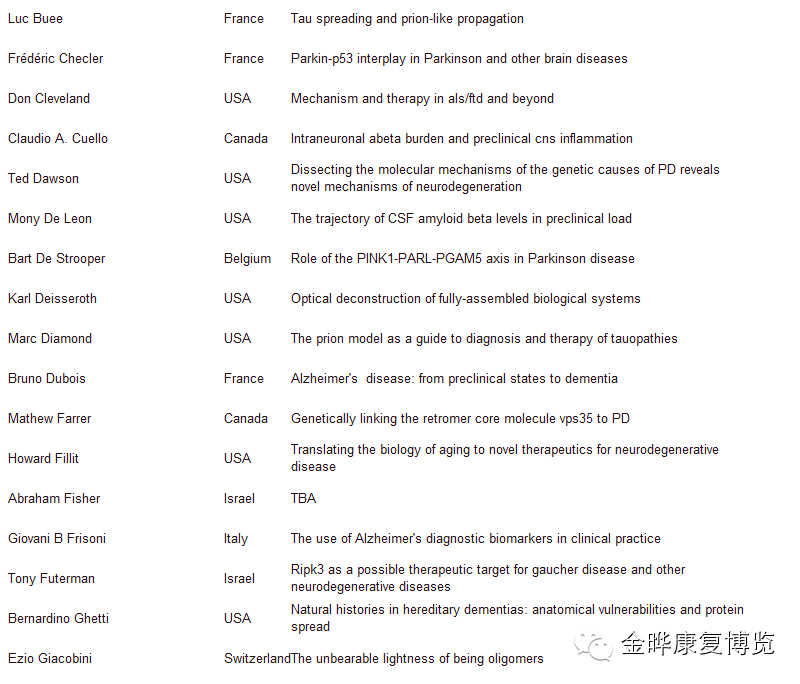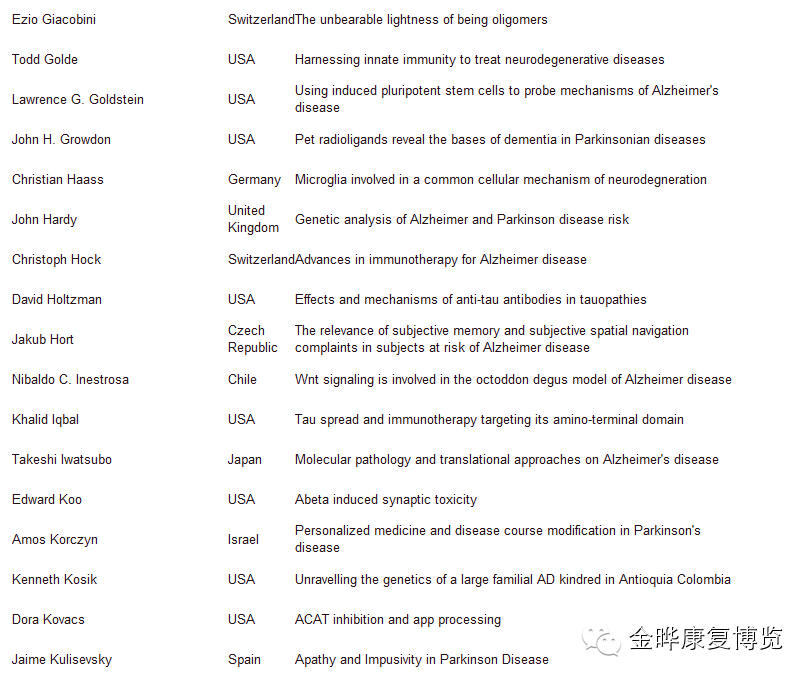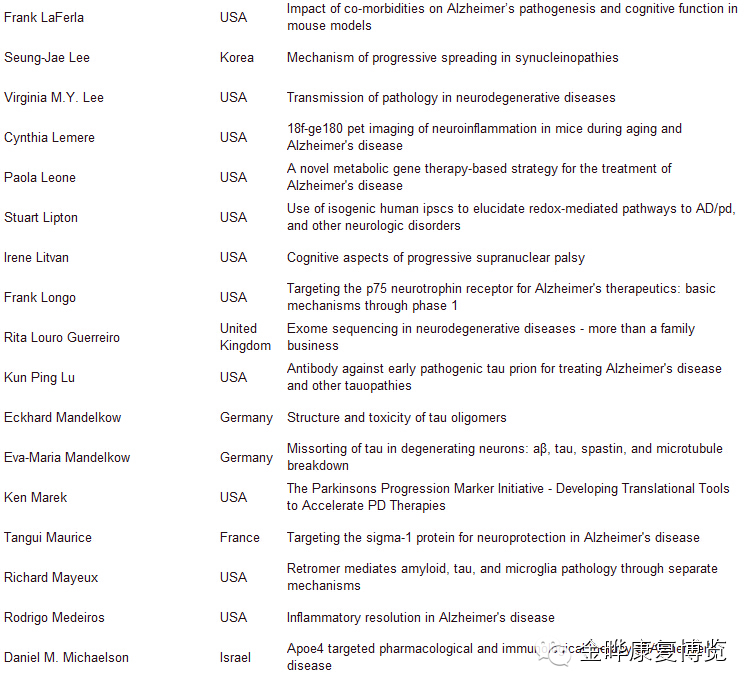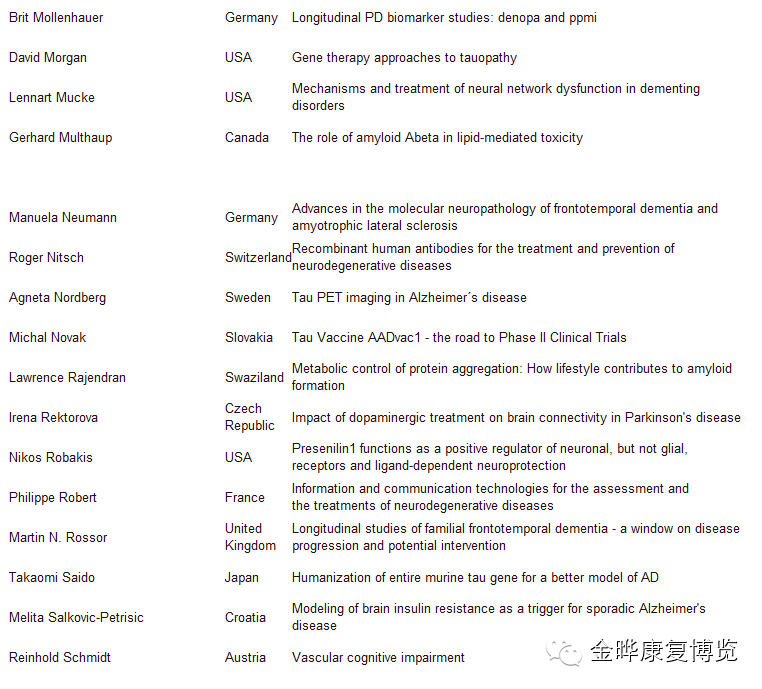 本篇由广州康复设备展采编,转载请注明出处。