展会新闻
会议通知:第7届国际听神经瘤会议(2015/4/12~16)
2015.01.28
---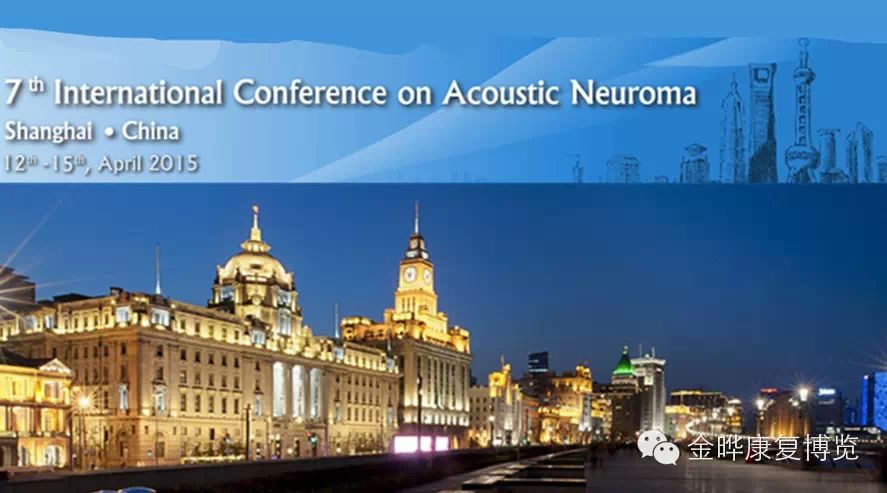 第7届国际听神经瘤会议

7th International Conference on Acoustic Neuroma
时间:2015/4/12~16
地点:中国 上海 东方滨江大酒店
网站:http://www.2015an.com/
Important Dates
Call for Abstracts:1 Jan, 2014 - 28 Feb, 2015
Notification of Abstract Acceptance :1 Mar, 2015 - 31 Mar, 2015
Early Registration :1 Jun, 2014 - 28 Feb, 2015
Regular Registration :1 Mar, 2015 - 1 April, 2015
Onsite Registration :12 April, 2015 - 15 April, 2015
Deadline for Registration Cancellation Before 28 Feb, 2015
Welcome Speech
Dear colleagues and friends,
On behalf of organizing committee, it's our great pleasure to invite you to the 7th international conference on acoustic neuroma which will be held from 12th to 15th April 2015 in Shanghai China.
Since its debut in Denmark in 1991, this worldwide multidisciplinary gathering has left its footprints in France, Italy, UK, Spain and USA. Finally it comes to China, the first Asian hosting country. The upcoming conference will provide a great opportunity for ENT surgeons, neurosurgeons, neuroradiologists, plastic and reconstructive surgeons, radiosurgeons and other healthcare professionals to share their clinical experiences, discuss treatment strategy, and introduce their advances in related fields. Various sessions and roundtable discussions will focus on the advanced clinical management as well as cutting-edge research accomplishment on acoustic neuroma and other CPA lesions. More than 600 participants and experts are expected to attend this exciting event held every four years.
As the largest financial center in China, Shanghai boasts of many famous scenic sports: the Bund, the Oriental Pearl Tower, Yu Garden, Shanghai Museum, Xintiandi and other architectures combining with local and foreign culture. The dazzling night is another unforgettable view that one should not miss. With other colorful social activities, the 7th international conference on acoustic neuroma will be a memorable experience for all the participants.
We sincerely look forward to welcoming you in Shanghai.
Faculty Member
Co-presidents
Prof. Hao WU
(Otolaryngology Dept, Xinhua Hospital)
Prof. Dongyi HAN

(Otolaryngology Dept, Chinese PLA General Hospital)
Prof. Ying MAO
(Neurosurgery Dept, Huashan Hospital)
Prof. Liwei ZHANG
(Neurosurgery Dept, Beijing Tiantan Hospital)
Past Presidents
Prof. M.TOS – Copenhagen 1991
Prof. J.M.STERKERS – Paris 1995
Prof. M.SANA – Rome 1999
Prof. D.MOFFAT and Prof. R.RAMSDEN – Cambridge 2003
Prof. E.GARCIA-IBANEZ and Prof. P.TRAN BA HUY – Barcelona 2007
Prof. M.SCHWARTZ, Prof. W.SLATTERY and Prof. R.FRIEDMAN – Los Angeles 2011
Conference information
Date:12-15 April, 2015
Venue:Shanghai International Convention Center
Name badges
Please wear your name badge all the time during the conference.
Delegates not wearing it will be denied access to meeting areas. Color coded as follows:
President: Red with ribbon
Faculty: Green
Delegate: Yellow
Executive committee: Blue
Accompanying person: Purple
Exhibitor: Brown
Staff: Black
Official language
English (no simultaneous interpretation)
Registration
Open from 12-15 April (8:00 to18:00)
Speaker ready room
All speakers should submit his PPT at least half day before presentation. Our staff in speaker ready room will check all slides to ensure the quality of the video. No personal laptop is allowed for presentation. Our staff will be available for assistance from 8:00-16:00 (12-15 April)
Poster
Poster areas are open to all delegates during the conference. Poster size (90*60)
Put-up Time: 13 April
Remove Time: 15 April
Poster discussions will take place from 13:00 to 14:00 every day.
Certificate of attendance
Early and registered delegates will get their certificate of attendance on 12 April at registration desk.
On-site registered delegates need to come to registration desk on 15 April to get their certificate of attendance.
Mobile phones
All delegates are requested to make sure that their cell phones are set to silent mode during the sessions.
Internet access
Please ask our staff at information desk for wi-fi password.
Smoking policy
Smoking is forbidden anywhere in the venue.
Lost and Found
Please visit the registration desk for lost and found
Program at Glance:
http://www.2015an.com/page.asp?id=D5910752557CE824EDCD04F16731D2E6
Registration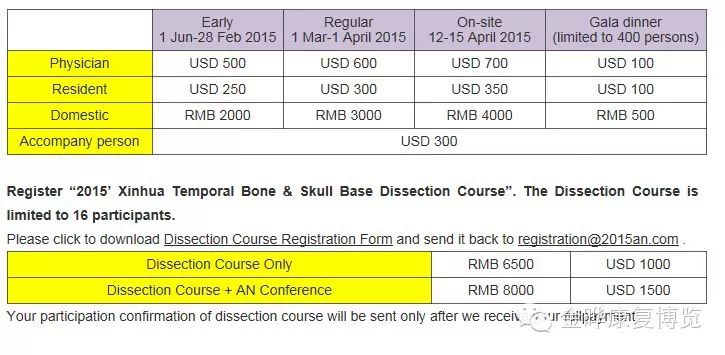 Registration Fees Inclusions
For participants:
Conference bag, Final program, Abstract book, Name badge, Certificate of attendance, Lunch, Coffee break, Welcome reception
For accompany person (One participant could have only one accompany person):
Name badge, Lunch, coffee break, Welcome reception, Gala dinner, One-day tour (limited to 40 persons)
Methods of Payment
Online registration (Paypal or Telegraphic transfer)
On-site registration (Cash or Credit Card)
Group registration (≥10 persons): Please contact secretariat directly via registration@2015an.com for group registration form.
Confirmation, Invoice and Invitation Letter
Registered participants will receive confirmation email immediately upon successful online registration. Invoice with name on registration form will be issued on all incoming payments. Official invitation for visa application will be sent after we received full payment. Please notice that it does not obligate any financial obligation to the organizers.
Cancellation Policy
Cancellations request must be emailed to conference secretary. Refunds will be processed after closing of the conference. All processing fees will be deducted from the refund.
Before 28 Feb 2015: 50% refunded
After 28 Feb 2015: No refunds. But substitution in person will be accepted.
Contact us
Email:
info@2015an.com
secretary@2015an.com
registration@2015an.com
abstract@2015an.com
Telephone:021-2312359121、021-55570010 、 021-23123591
Fax:021-23123600